Diplom-Wirtschaftsinformatiker
Frank Schlosser war wissenschaftlicher Mitarbeiter und Doktorand am Lehrstuhl für Wirtschaftsinformatik, insb. Informationssysteme in Dienstleistungsbereichen an der Universität Bamberg. Dort hat er zuvor auch Wirtschaftsinformatik studiert. Seine Forschungsschwerpunkte befanden sich im Bereich der IT-Wertschöpfung, wo er sich speziell mit den Themenfeldern IT-Governance, IT-Business-Alignment, IT-Outsourcing und Unternehmensarchitekturen (z. B. SOA) beschäftigte. Das Hauptaugenmerk seiner Arbeiten zielte darauf ab, die Erreichung und Aufrechterhaltung einer guten Abstimmung zwischen Business und IT zu verstehen, geeignete Handlungsempfehlungen zu entwickeln und deren Wirkung im Zeitverlauf zu analysieren. In diesem Zusammenhang führte Frank Schlosser regelmäßig Experteninterviews, Fallstudien und empirische Studien durch und war bzw. ist maßgeblich an folgenden Projekten beteiligt:
Strategic IT Alignment in Multi-Business Organizations
Frank Schlosser ist Autor diverser Veröffentlichungen auf internationalen Konferenzen, u.a. ICIS, ECIS, WI, HICSS, AMCIS, sowie Co-Autor eines Buchs. Darüber hinaus präsentiert und diskutiert er seine Forschungsergebnisse mit Unternehmensvertretern.
Im Bereich der Lehre betreute Frank Schlosser die Lehrveranstaltungen IT-Controlling (Aufgaben, Handlungsfelder und Methoden) und IT-Wertschöpfung (IT-Produktivitätsparadoxon, IT Capabilities, IT-Governance, IT-Business-Alignment, IT-Architektur, IT-Outsourcing-Management, IT-Bewertung). Darüber hinaus betreute er Seminar- und Abschlussarbeiten zu verschiedenen Themen.
Ausgewählte Veröffentlichungen
Jentsch, C., Schlosser, F., and Beimborn, D. (2014)
From Strategic to Operational Collaborations: The Divergent Nature of Business/IT Shared Understanding
Proceedings of the 20th Americas Conference on Information Systems (AMCIS), Savannah (GA)
View Abstract

The success of any business/IT collaboration depends on the shared understanding between business and IT professionals (B/IT-SU) on all organizational layers. However, most research on B/IT-SU merely focuses either on top management level or information system development (ISD) teams. This isolated research led to divergent conceptualizations of B/IT-SU. While studies on strategic collaboration concentrate on B/IT-SU of the objectives or the role of IT, ISD research postulates shared language as main B/IT-SU component. In this paper, we build on major findings of B/IT-SU research, and develop an integrated concept of the relevant dimensions that should be studied conjointly to provide a more consistent view of B/IT-SU. Furthermore, we discuss our concept from three perspectives: (1) strategic collaboration; (2) project collaboration; and (3) operational collaboration. The results provide insights into the key dimensions of B/IT-SU in regard to the distinctive hierarchical layer, respectively, and serve as initial foundation for further investigations of B/IT-SU.
Schlosser, F., Wagner, H., and Coltman, T. (2012)
Reconsidering the Dimensions of Business-IT Alignment
Proceedings of the 45th Hawaii International Conference on System Sciences (HICSS), Maui (HI)
View Abstract

While the literature on business-IT alignment has become increasingly mature in the past 20 years, different definitions and conceptualizations have emerged. Several dimensions like strategic, intellectual, structural, social, and cultural alignment have been developed. However, no integrated and broadly accepted categorization exists and these dimensions are non-selective and do overlap. In this paper, we critically compare and reflect the existing dimensions of alignment and synthesize what has been researched about alignment and guide future research by revealing gaps in alignment research suggesting an agenda for future research. In regard to analyzing alignment, we propose to clearly separate between the organizational level and the content of alignment, for which we suggest three distinct dimensions: (1) human dimension; (2) social dimension; (3) intellectual dimension. The result is a consolidated grid of alignment studies allowing to identify both areas with a mature and rich strand of literature and those lacking research.
Joachim, N., Beimborn, D., Schlosser, F., and Weitzel, T. (2011)
Does SOA Create or Require IT/Business Collaboration? Investigating SOA's Potential to Reduce the Gap Between IT and Business
Proceedings of the 32nd International Conference on Information Systems (ICIS), Shanghai, China
View Abstract

By extending the research on identifying the possible benefits of Service-Oriented Architectures (SOA), we investigate how SOA delivers its value in an organization. One perspective in the existing literature suggests that service orientation works through creating better IT/Business collaboration as the "services" concept is a shared mental model that reduces the mental gap between IT and business units. Another perspective proposes that SOA benefits require IT/Business collaboration in the first place as IT and business must closely collaborate in order to leverage SOA's potential. We develop a theoretical model to understand how service orientation and close collaboration between IT and business departments are related. An analysis using data from 122 organizations reveals that SOA does not advance - but rather requires - close collaboration between the IT and business departments (i.e., collaboration is a moderator, not mediator, between SOA and its impacts). Therefore, close IT/business collaboration is an important success factor for realizing SOA's value potential and must be established using other means.
Schlosser, F., Wagner, H., Beimborn, D., and Weitzel, T. (2010)
The Role of Internal Business/IT Alignment and IT Governance for Service Quality in IT Outsourcing Arrangements
Proceedings of the 43rd Hawaii International Conference on System Sciences (HICSS), Kauai (HI)

Beimborn, D., Blumenberg, S., König, W., Martin, S., Moos, B., Schlosser, F., and Weitzel, T.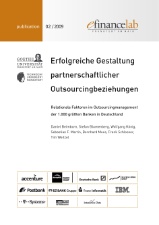 (2009)
Erfolgreiche Gestaltung partnerschaftlicher Outsourcingbeziehungen: Relationale Faktoren im Outsourcingmanagement der 1.000 größten Banken in Deutschland
Books on Demand, Norderstedt (ISBN 978-3-8391-2901-2). Online unter: http://www.bod.de/index.php?id=296&objk_id=286442

Beimborn, D., Schlosser, F., and Weitzel, T. (2009)
Examining the Relationship Between Trust and Control in IT Outsourcing Relationships
Proceedings of the 17th European Conference on Information Systems (ECIS), Verona, Italy
View Abstract

What is the role of control in maintaining trust in outsourcing relationships? Although the literature is quite rich on conceptualizing the relationship between control and trust in inter-organizational relationships, there exist quite sparse quantitative works which help to evaluate the models developed. In this paper, we analyze data from 156 IT outsourcing relationships of German banks in order to get insights into the actual relationships between different modes of control and the level of relational trust in these relationships. Additionally, we examine the role of service quality (measured in terms of reliability and responsiveness) in this context. The results show that trust is positively related with most modes of control, and that there is indicative evidence that control supports trust in high-service quality situations while it leads to a reduction of trust in relationships suffering from bad service quality (cycle of trust vs. distrust).