Publications by Dr. Christian Maier
Book Chapters
Weinert, C., Maier, C., Laumer, S., and Weitzel, T.
(2015)
Controlling der Rekrutierung: Erhebung von Kennzahlen entlang des Recruiting-Prozesses
in Praxishandbuch Controlling, W. Becker and P. Ulrich (eds.), Wiesbaden: Springer Fachmedien Wiesbaden, pp. 1-14

Maier, C., Laumer, S., and Eckhardt, A.
(2011)
Technology Adoption by Elderly People - An Empirical Analysis of Adopters and Non-Adopters of Social Networking Sites
In: Heinzl, A., Buxmann, P., Wendt, O., and Weitzel, T. (eds.): Theory-Guided Modeling and Empiricism in Information Systems Research, Physica-Verlag, Heidelberg, 85-110. Erhältlich unter: http://www.amazon.de/Theory-Guided-Modeling-Empiricism-Information-Research/dp/3790827800/ref=sr_1_1?ie=UTF8&qid=1317916027&sr=8-1

Eckhardt, A., Laumer, S., and Maier, C.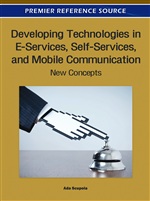 (2011)
Introducing a First Step towards a Holistic Talent Management System Architecture
In: Scupola, A. (ed.): Developing Technologies in E-Services, Self-Services, and Mobile Communication: New Concepts, IGI Global, Hershey (PA), Book Online: http://www.igi-global.com/bookstore/titledetails.aspx?titleid=47049; Chapter Online: http://www.igi-global.com/bookstore/chapter.aspx?titleid=54968